Scott's Run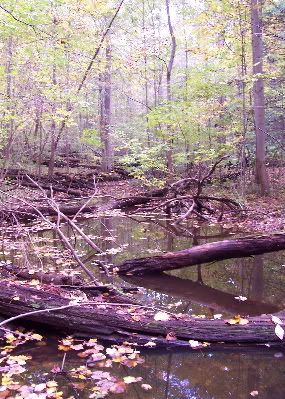 Well, I Managed to hit
Scott's Run
this afternoon. Started at the upper parking lot, walked down along the trail next to Georgetown Pike to the lower parking lot and followed the stream down to the pool where the dogs play. I didn't continue on to the river, instead, I went over the stream and up the path and stairs, following the trail to the ruins. From there, I hiked back along the main path and then took a left over to the old flag pole and continued to the overlook.
There was a girl and her dog up on the overlook, so I scrambling down to the river and climbed along the rocks there, admiring the old rock dam that was built in the river (wonder when and by whom) before making the tough climb back up the hill and heading to the car.
Total Time: 1:02:00
Time above zone (>150 bpm) 0:17:12
Time in zone (100-150 bpm) 0:44:29
Time below zone (<100 bpm) 0:00:13
Average Heart Rate: 138 bpm
Maximum Heart Rate: 174 bpm (after scrambling up the cliff from the river)
Calories burned: 469
Not bad for a quick afternoon trek.